My name is Víťa, I'm 3x years old and I'm from Czech Republic. My character is Popelka, a shadowpriest.
Character
My main character is Popelka which you can see at armory
http://eu.battle.net/wow/en/character/kazzak/Popelka/simple
and there's a log included from last LFR
http://www.worldoflogs.com/reports/t6qyyq1gvz4d80j9/
(sadly it got bugged somehow with Primordius and Durumu being mixed in one part). My alt is Kulisek a moonkin, 
http://eu.battle.net/wow/en/character/kazzak/Kulisek/simple
 which used to be my main since start of TBC till start of Cataclysm.
As you can see I'm trying to do LFR every week to ensure I won't miss quest items and stuff, sadly I'm really unlucky - I'm at 11/12 titan runestones (all 6 done this week) and I have also horrible luck on trinkets as both megaera and lei shen simply hate me too much to drop them despite using coins.
Here comes the screenshot of UI in combat: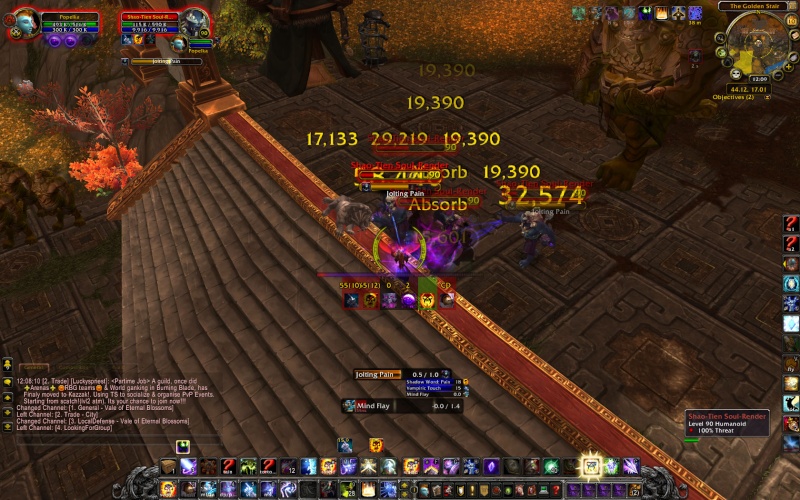 I've started using affdots to track the "power" of my dots but I still keep shadowtimers on the bottom. I'm trying to get used to affdots only (but it's annoying without timer so I'm trying to figure out a best way). I'm also using powerauras a bit, this one just to ensure I have highlighted when I have two orbs to remember refreshing dots before third orb so I can use insanity without loosing my dots.
About my path through WoW
I've been playing on Aerie Peak for 2 expansions (Unwise Elders), but as AP was dying more and more, at the start of ToT it was obvious we can't continue being 25m anymore so guild died and we migrated away. After comming to Kazzak I joined Progress Denied, but at the end I was offered a social spot only (that basically translates into "failed a trial") which I rejected and ended unguilded.
I don't really think having "pre" info will help you much, but anyway: I've started playing after game was released, cleared pretty much everything in vanilla including Kel'thuzad with my warrior, got high warlord title and all this cool stuff. Then in TBC I managed to kill Kil'jaeden, managed to kill Lich King HC 25m in WotLK. Sadly our progress with Ragnaros HC (only 10m this time, we started having 25m troubles there) was a big cut in half with 4.3 and we've got beaten on that one. We managed to kill 25m HC Deathwing. Then in MoP we've focused too much on Will of Emperors 25m HC leaving all other stuff be, and with 20-23 people for most of raids after 5.2 it was basically impossible to progress at all.
RL
I'm 3x years old IT, I like running/jogging (1/2 M @ ~2 hours) and swimming, and I'm using those to keep myself in shape. I also love books and I really enjoy having e-book which made it much easier to use (I still have all Wilbur Smith's books but carrying those with yourselves is just crazy due to their 600+ pages)
Why Core Crew
I've found your guild on forum. I like the fact you do not raid 6-7 times a week which is a bit too much for me already. You are also looking a shadowpriest and I thought I might be sort of a good addition to your team.



Posts

: 1


Join date

: 2013-07-10






Posts

: 30


Join date

: 2013-01-13




---
Permissions in this forum:
You
cannot
reply to topics in this forum